Trailer tyres with a difference
We produce farm trailer wheels that can maximise load capacity, boost harvesting productivity and provide optimal lateral stability, even on difficult and uneven terrain. Our experience means we know how important all of the above is for effective farming.
Navigate nature
Nature is unpredictable, and makes for a challenging work environment. Choosing stable, durable farm implement tyres that provide great manoeuvrability is therefore crucial. Our flotation tyres for trailers have been designed with all of this in mind.
The marks of a Trelleborg farm trailer tyre
Our tyres have been engineered for spreaders, grain carts, balers, tankers, trailers, road transport and other implements. Here are just some of their traits:
•
The Trelleborg implement tyre line enhances the flotation characteristics of the tyre to minimise compaction of soil and grass areas.
•
Recent tests have shown excellent performance in muddy fields, as well as outstanding handling on the road – making our tyres long-lasting and great value.
•
The wide footprint of our implement tyres guarantees weight distribution over a large surface area, thus reducing ground-bearing pressure.
•
In addition to excellent trailer performance, our unique tread design promises exceptional traction.
Environmentally friendly tyres
At Trelleborg, we are convinced that agriculture is destined to play a leading role in future environmental challenges. We therefore challenge ourselves daily to look for environmentally friendly approaches that improve the performance, efficiency and sustainability of our wheel systems during their entire life cycle – from design to product recycling.
Discover our range
Are you ready to explore our range of the best quality implement tyres? Use our tyre Selector App to find just the right farm implement tyre and give your productivity, sustainability, efficiency and comfort a boost today.
Implement wheels tyres
Our agricultural implement tyres offer high performance and reliability. They're the best choice for both farming and forestry applications.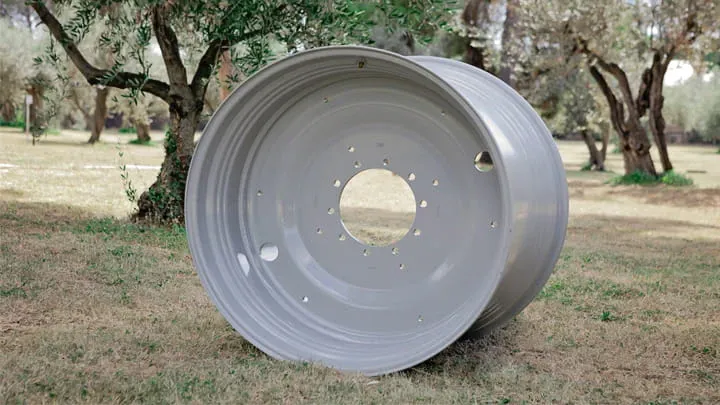 Implement rims & complete wheel systems
The Trelleborg implement rims & complete wheel systems enable famers to work efficiently and productively.
Digital tools & resources
See below for a selection of helpful tools specifically designed for those in agriculture and forestry. For additional tools, as well as resources covering construction and material handling applications, visit our digital tools and resources page.
Want to get in touch? Drop us a line and we'll get back to you as soon as possible.